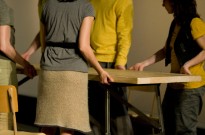 PUBLIC MATTERS
Thursday, October 4, 2012, 8:00 pm PUBLIC MATTERS is a project by Public Recordings, an atelier that explores and shares choreographic experimentation through artistic research, performance creation, publication and education. For the first event in the series, we'll use "relay interview," a methodology for shared conversation developed by Jacob Wren (PME-ART).
Unshowable Photographs
Thursday, September 20, 2012, 7pm Working from Ariella Azoulay's notion of the event of photography, and Susan Meiselas's writing about untaken and unshowable photographs, this panel discussion asks respondents to discuss images that are difficult to show, have been withheld, or which we know exist but do not circulate.