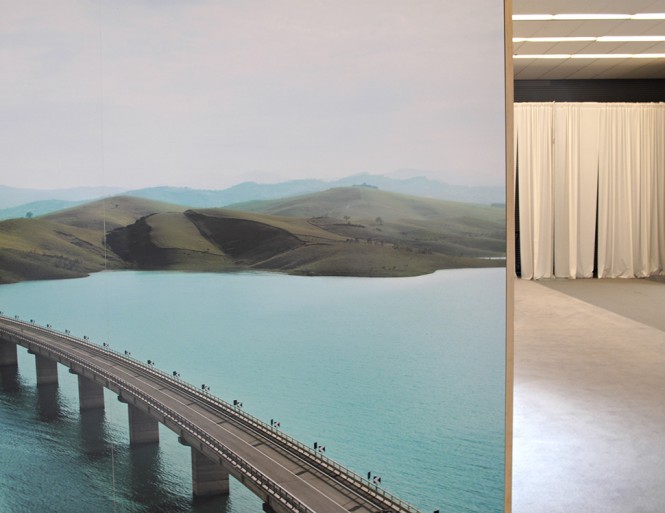 Kotama Bouabane | Michelle O'Byrne | Michael Snow
Artist Statement
"My fascination with contemporary trade shows and the notion of "dream" marketing is explored again within this new body of work. Bridge is from the 2010 International Auto Show. It utilizes the backdrop of a car campaign, strategically cropping out the logo and a car at the bottom of the bridge and photographed with part of the convention centre in the background. It examines the staging of culture in North American society and how it is marketed to us.
I've been photographing various trade shows in Montreal that range from Le Salon International De L'Auto, Salon de la Mariée and Salon National de la Pourvoirie, Chasse et Pêche. The installations at the trade shows act as sets and backdrops that are important in alluding to idealized social conventions like marriage, home and profession as artificial, alienating and phantasmagoric. The construction of each space utilizes objects that are familiar yet presented almost as artifacts that become uncanny and dislocated. The production of lifestyle and leisure are put onto display by highly choreographed scenarios."
Biography
Kotama Bouabane is completing an MFA in Studio Arts, Photography from Concordia University, Montreal. His work has been shown at the Harbourfront Center in Toronto, Flash Forward 2010 in Toronto, Whitney's Biennial, NY, Empty Gallery, Montreal and Struts Gallery in New Brunswick. In 2010 the artist received the Roloff Beny Foundation Fellowship in Photography. He is represented by Erin Stump Projects in Toronto.
Website: www.kotamabouabane.com