May 5 — June 10, 2017
Habitat is a constellation of new work by artist Luis Jacob, who is known for his multidisciplinary practice that destabilizes conventions of looking to highlight the socio-political dimensions of the visual world.
Read more ›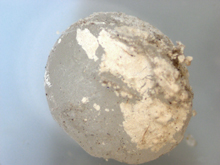 June 24 – July 29, 2017
Featuring new video and wall works, Proof of Performances expands Kelly Jazvac's work with the material refuse of capitalism. Thinking broadly about the effects of environmental contamination, the exhibition's tendrils of inquiry touch on the granular, the bodily and the interplanetary.
Read more ›